Dublin, CA
Market Report Q1 of 2019
Being trained as an appraiser, I am very numbers oriented and like to compare what has happened in the past and see how it's affecting today's market then forecasting where the future will take us. The first quarter of 2019 started in a very similar way to the first quarter of 2018. Most real estate markets across the country, the Bay Area, and here in Dublin suffer from seasonal fluctuations. The normal real estate cycle peaks with activity in the spring and summer months. This is because we live in a very family friendly city with highly ranked schools. The real estate market tends to follow the school schedule as families who are selling will do so when their children are out of school and families who are buying want to find and move into their new homes before the new school year begins.
During the first quarter of 2019, there were 88 sales of single-family homes with a median selling price of $1,021,500. The first quarter of 2018 had 91 sales with a median selling price of $1,099,000.


At first glance, it may seem that home values have dropped but the median sale prices don't tell the whole story. In 2018, the average size of the homes sold was larger than in 2019. When you look at the sale price per square feet, 2018 had an average of $473/sq.ft while 2019 had an average of $512/sq.ft (see the tables above).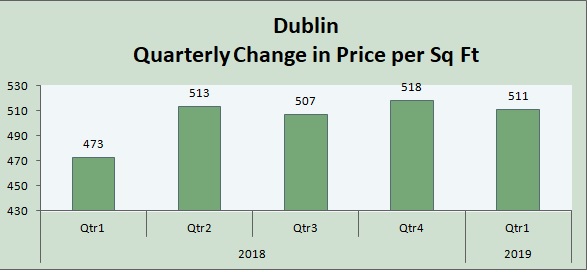 As the graph shows above, this could be a great start to 2019 for home sellers. When you compare Q1 of 2019 to Q1 of 2018 we are far ahead of the previous year. This could be indicative of higher sale prices as we proceed into the spring and summer months. Why is this happening? My guess is that rates have stayed low even though the Fed threatened to increase rates in 2019. If anything, rates are lower than they have been for a long time which is increasing buying power. Secondly, there is a serious lack of supply but a continued high demand for homes which is simple economics which again puts sellers in the driver's seat. From a regional perspective, the Bay Area remains the tech hub of the United States. Tech employers continue to handsomely compensate their employers and are continually attracting the best talent around the world. All these highly paid professionals need housing in an area with supply problems. This can only further increase home values in the future. Dublin already is near the Tri-Valley tech hub and with linkages via car, BART and shuttle buses, this area will remain an attractive place to settle down.
By – Michael Willis – Real Estate Consulting
CA DRE #0196807